It's been a little over a month since we wrapped 7in7 Year Two, but it feels like only yesterday we were making new connections over pintxos and sangria in Barcelona!

What happened this year at 7in7 you ask?

ALL THE THINGS!

For those of you thinking you may attend in the future… get ready. This isn't some two-day event where you fly in, shake some hands, exchange business cards, and then fly back home.
It's a week-long experience of making meaningful connections.
It's a chance to meet with like-minded individuals that will change your life. You might start a new business. Start a WhatsApp group of fellow nerds. Find a new yoga buddy. It's all about joining a nomad family to help you navigate this unconventional lifestyle for years to come.
Here's a glimpse into 7in7 Year Two.
The 7in7 team landed in Barcelona in early September, a month before our workshops officially kicked off Year Two. During that month, there was a lot of running around, sword fights, coffee (so much coffee), and shopping trips.
We secured venues and vendors. We explored restaurants, cafes, and ate countless flavors of gelato, all for the sake of research.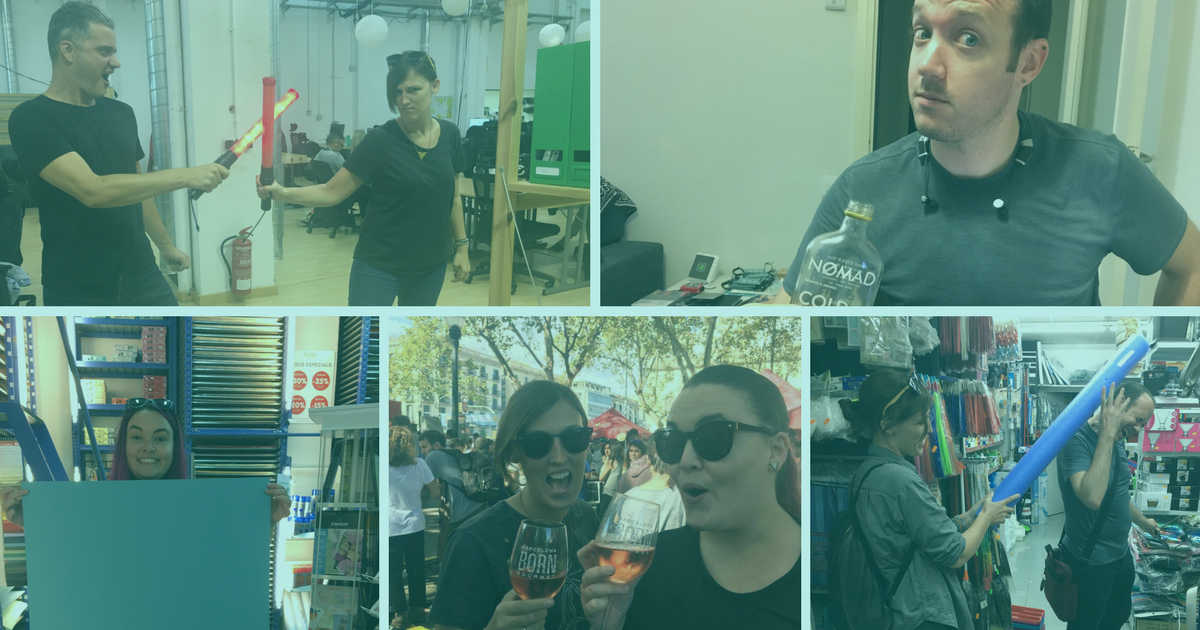 Lest you think this all happened in a vacuum, about two days after we landed we already had our first 7in7er join us in the city. By mid-September there were a handful of new and returning 7in7ers meeting up for churros and coworking sessions all over the city.
Come October, our volunteers arrived and we hit the ground running, as our amazing attendees were flying in from all corners of the globe. They came from near and afar, from Southeast Asia and North America to a short train ride down the Spanish coast. As everyone started to settle in Barcelona, meetups were organized and spontaneously created all over the place. There were meetups for those interested in cryptocurrency, cat lovers, LGBTQ+ folks, creatives, and acro-yoga enthusiasts… just to name a few.
We even had an impromptu "meat-up" with a group of 20+ 7in7ers forging their way through protest-filled streets with the sole mission of eating burgers together.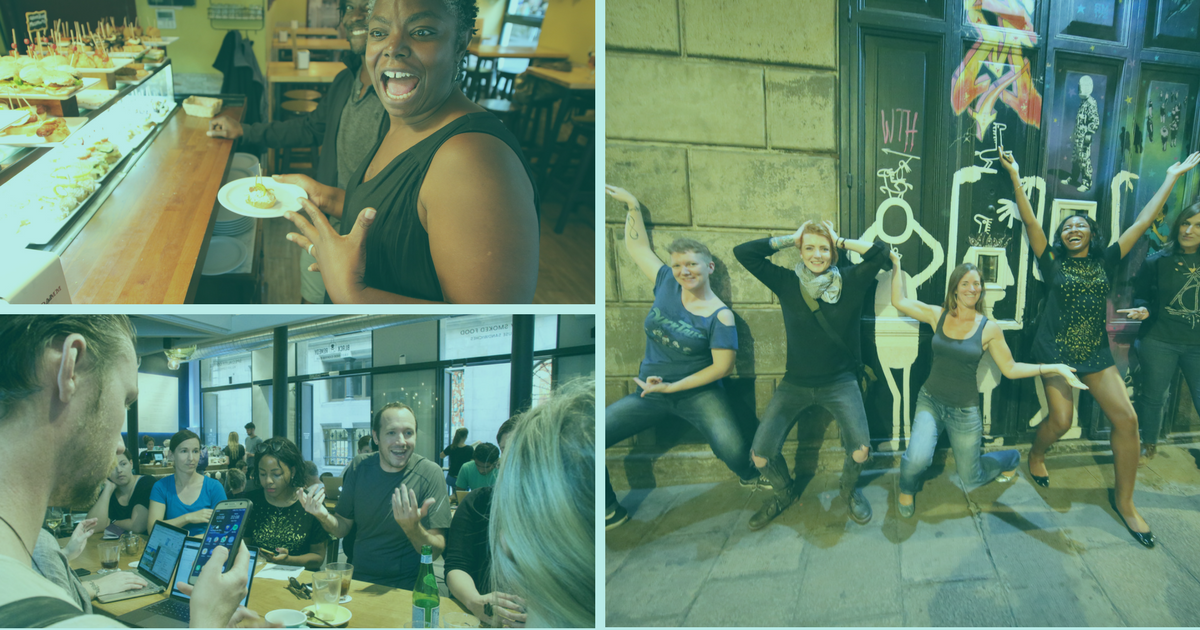 Between October 3-10 we had no less than 26 meetups!
We also had two days of workshops in the lead-up to the main event. From how to write your first book, to staying healthy on the road, to authentic relating games – the workshops were a great way for people to get to know each other before the conference in a more intimate setting.
It was two days of intentional and tangible takeaways that set the mood for the main stage days over the weekend.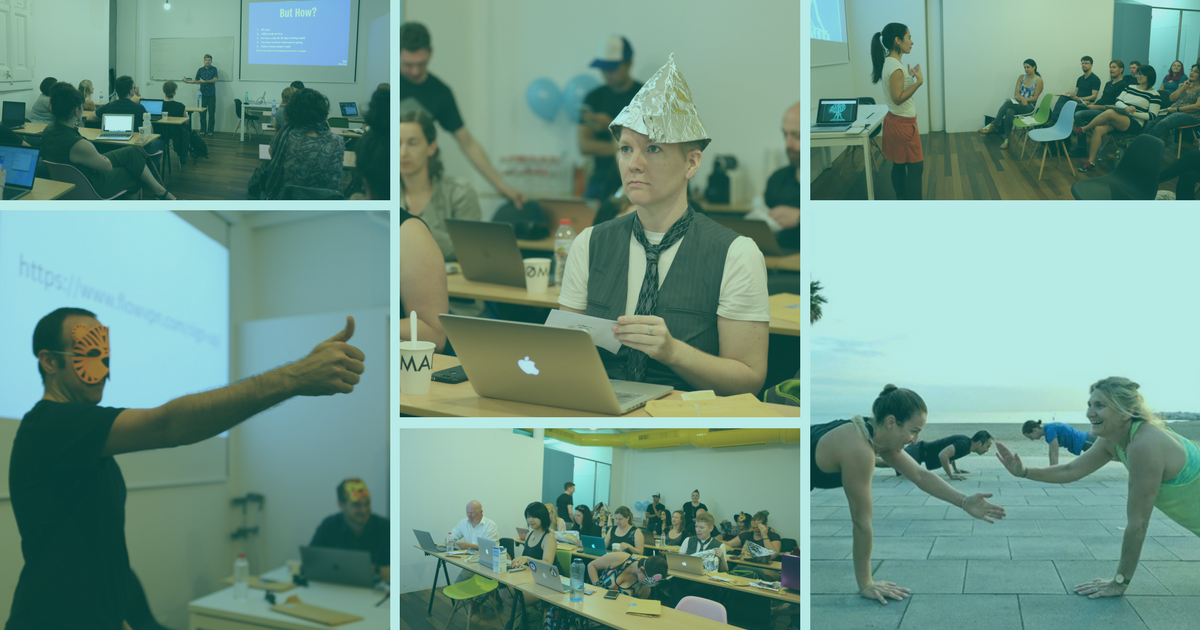 Six workshops, lots of Nespresso, and quite a few tinfoil hats.
By Friday night, with the workshops done and late arrivals eager to mingle, attendees and speakers gathered for a happy hour of mojitos and margaritas. Meanwhile, the 7in7 team was hard at work setting up our kick-ass venue so it'd be ready and perfect for everyone's arrival the next morning. Which, drumroll please…
Brings us to the main event!
The main stage days of the 7in7 conference took place over the weekend of October 7-8, a full four days after the majority of our attendees had arrived in Barcelona. Needless to say, some pretty awesome friendships, selfies, and inside jokes had already been made at this point, and we were just getting started! We had an awesome lineup of truly wonderful humans on stage, an atmospheric game of Werewolf, and a chilling Antarctica Q&A that had everyone plotting how they could cuddle (or possibly steal) a penguin in 2022.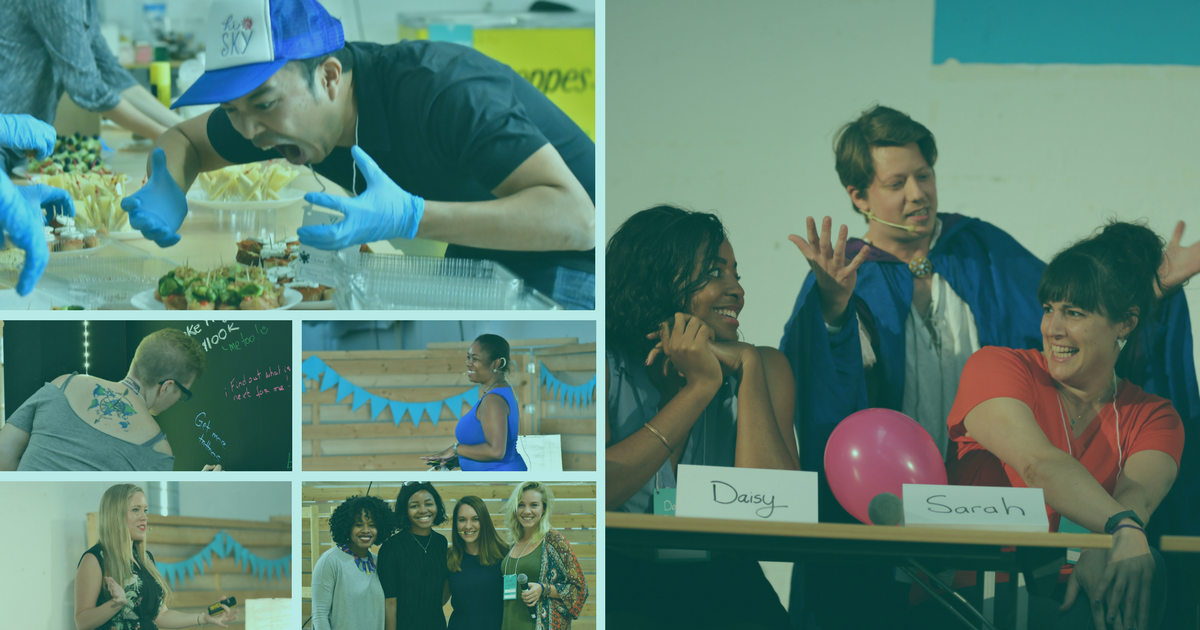 Besides putting on an amazing event, a singular focus has always been to create ample time and space for people to connect. Yes, our speakers are fantastic and spark conversations throughout the conference, but our biggest asset is the ability to facilitate organic conversations with other nomads. That's why we dedicated a huge part of each day for people to connect during breakout sessions. So, so many interesting conversations arise from allowing people this time to connect. At the end of day two, we wrapped the whole affair with a laugh-filled afterparty that went into the wee hours of the morning.
Need more than just words? Watch the 7in7 Year Two Recap below!
But that's not all.
On Monday, October 9 a mix of attendees, speakers, and volunteers met up to take part in our Nomad Support Squad initiative, in which we partner with a local organization to use our skills to do some good. This year we partnered with Homeless Entrepreneur to help them create a new website to reach more people with their amazing vision.
One more thing.
Another first for 7in7 this year was the post-conference Nomad House at the beautiful Sun & Co. in Jávea along the Spanish coast. This was five days of relaxing, masterminding, and playing/falling into the ocean. 12 nomads further bonded over card games, road trips, standup paddle boarding mishaps and so much paella. It was a ton of fun, and the perfect epilogue to a week of excitement and inspiration.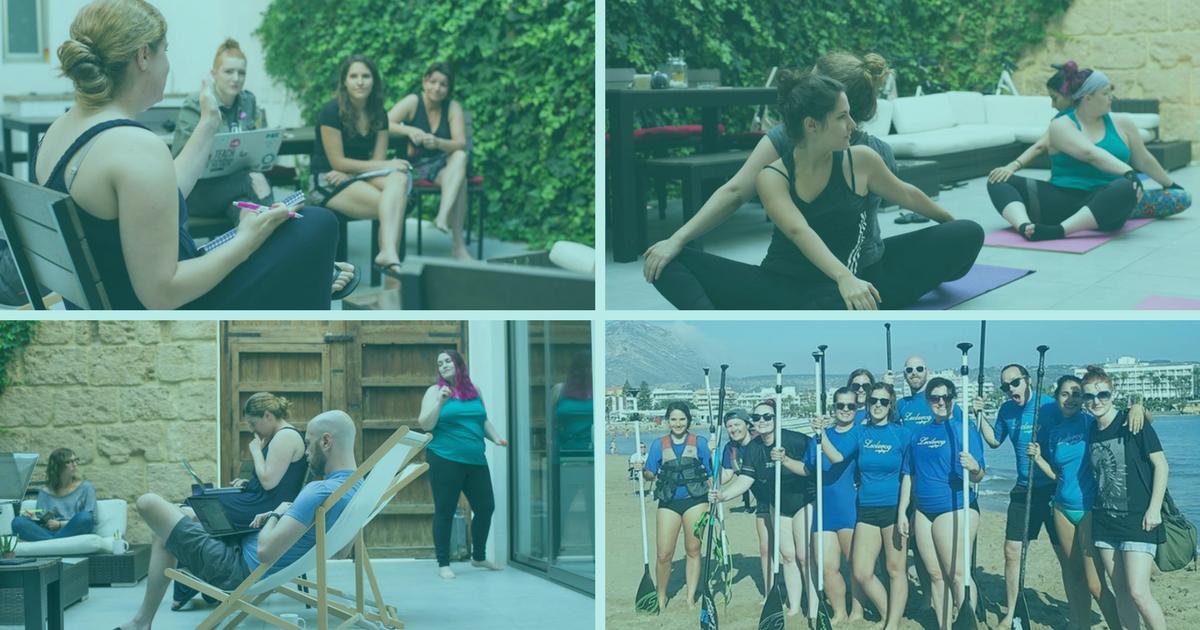 Whew! That was a lot to pack into one experience… and one blog post! I appreciate that you stuck with us right to the end. We'd love to have you join us next October in Medellín, Colombia to make a whole new set of unforgettable memories.
If you have any other questions or want to be involved in 7in7 next year, get in touch!