---
We could all use a little more community
---

Wouldn't it be stellar if the year's highlights were planned out for you? Living a location independent life can be tricky, and balance is elusive. 7in7 provides an amazing opportunity to gather with your people, but (sadly) it only happens once a year.
The 7in7 Retreaters not only gather online in the 7in7 Society, but they meet up for retreats and celebrations throughout the year. Not too many people. Only 7in7ers. Once you're in, there's no planning and no extra costs. We take care of everything.
More time with friends. Less travel planning.
What's included:
5-day luxury mid-year retreat
7in7 Year Five conference ticket + dinner party 🥂
5-day post-conference retreat
7in7 Society membership
Accountability group
Note: There will also be an extremely limited number of spots available at the post-conference retreat for 7in7 Year Five attendees.
---
Luxury mid-year retreat
---

It's the one trip of the year you don't have to organize. We'll come together in 2022 for a 5-day luxury retreat. A nomad holiday, if you will.
As nomads we've become conditioned to constantly be available, since we can always pull out our phones and answer one more email. No more! We're taking back the proper vacation and we're doing it in style.
It's an all-inclusive experience. Round-trip transport from the airport, all your meals, opulent accommodation, housekeeping, loads of mint tea, and any day trips.
Oh, and you better believe we'll be bringing the games.
---
7in7 Conference and dinner party
---

7in7 Retreaters get an all-access ticket to 7in7 Year Five. Three days of workshops, two days of main stage events, parties, meetups, and more are all yours!
For Year Five, we'll kick off your arrival with an exclusive dinner party and a cultural introduction to our host city. Roll out the red carpet and don your finest attire… this'll be a celebration for the ages!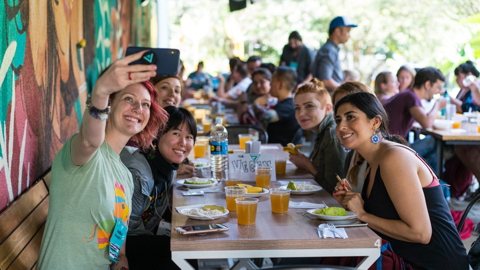 ---
Post-conference retreat
---

The annual tradition continues! The post-conference retreat is the perfect backdrop to relax and detox after a jam-packed week of events with an intimate group of 7in7ers.
We'll harness all the inspiration from the conference in a goal-setting mastermind session, relax on the coast, have epic game nights, and maybe even take a day to find some penguins.
We take care of everything. Round-trip transport, all your meals, epicurean accommodation, daily housekeeping, and more.
While the post-conference retreat is open to all attendees, we limit it to a max of 15 people. Last year's retreat sold out in 24 hours, but all 7in7 Retreaters have their spots guaranteed!
Ready for 5 days of this?

Hannah Dixon
"The 7in7 Nomad Retreat was such a fulfilling experience in so many ways for me. Not only did it give me the opportunity to deepen some of the amazing connections I made at the event itself, but the goal setting session and accountability that followed bled into the rest of my working year and was a huge help. The venue was beautiful and I cannot wait to relive the experience in Colombia this year!"

Martina Donkers
"The Nomad Retreat was an amazing way to strengthen connections with new friends, deep dive into specific nomading challenges, and have loads of fun. Stand-up paddle boarding, Exploding Kittens, brownies, and an incredible group of nomads – what more could you want?"

Christine Cadalzo
"Nomad Retreat was amazing. Not only was it refreshing to spend time relaxing with people who 'get' me, but I had so many great conversations that helped me improve my quality of life as a nomad."

Mariza Monteiro
"The Nomad Retreat is more than an after-conference retreat. It takes the strong sense of community you feel at 7in7 to a more intimate level, whether you want to debrief from the conference, work on a business idea or just chill with your new friends – I did all three and loved it! Oh and infinity pool this year. Enough said."
---
Society benefits +
---

We may come together IRL twice a year, but there's a year-round global community that's chock of other 7in7ers and awesome location independent humans in the 7in7 Society.
7in7 Retreaters get all the membership benefits. Coworking hangouts, digital decluttering, and of course… our fortnightly geek guild and tabletop sessions
(We all love a little competition. And winning)
Plus! A private WhatsApp group chat just for Retreaters. A safe space to support one another in our endeavours, successes, and failures… and to share cat GIFs.
Oh, and a special accountability group. Did we mention the accountability group? We'll come together in a supportive atmosphere to set goals, ask questions, and get shit done.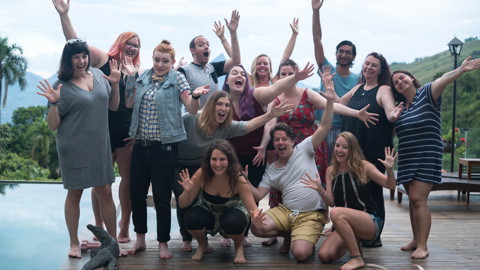 ---
Who this isn't for
---

While every retreat will have space for alone time and personal reflection, if you're uncomfortable spending 5 days in close quarters with your fellow nomads, then this group probably isn't the right fit.
This is for the planners. For those who thrive in groups and shared experiences. It's not just a bucket list for organized extroverts, but it's an intimate and supportive community.
There's also an element of uncertainty and expectation. Uncertainty in precisely when and how all our meticulously organized details will be available. An expectation that you'll attend the meticulously organized retreats in their entirety.
7in7's mission statement is about diversity, community, collaboration, and sustainability, and these core values extend to this tight-knit group of Retreaters. Our Code of Conduct may have been designed for the conference, but it applies here too. All ages, races, gender identities, sexual orientations, abilities, and body types are welcome.
We are 100% introvert friendly! The Retreaters will never exceed 11 people, and the retreats are designed for as much or as little interaction as you'd like, and on your terms.
---
FAQ
---

We've got you! Whether you're vegan, vegetarian, dairy-free, gluten-free, or have any sort of food allergy… rest assured there will be an abundance of tasty noms at the retreats that will fit your diet and not require a shot of epinephrine.
If you've got an environmental allergy, we'll do our best to mitigate the impact. While we're semi-powerless against wildflowers, if you have an animal allergy we can certainly avoid retreats with animals.
Our goal is for everyone – or every couple – to have a private room at the luxury mid-year retreat. For the post-conference retreat, it'll likely be shared accomodation with rooms for two people.
We'll announce details for the luxury mid-year retreat in early 2022. All the juicy details for the post-conference retreat will be available later in 2022.
Don't see your question here?
---
Join the 7in7 team for a mid-year retreat, 7in7 Year Five, and a post-conference retreat in 2022
---

7in7 Retreaters
society membership + nomad retreats
What's included:
✨ PLUS ✨

5-day luxury mid-year retreat

7in7 Year Five conference ticket

US$599 value

5-day post-conference retreat

Private group chat

Accountability group
US$850/4 mo.
– OR –

Save an extra US$100


US$3300/yr.
We've hit max capacity for the 2022 Retreaters!